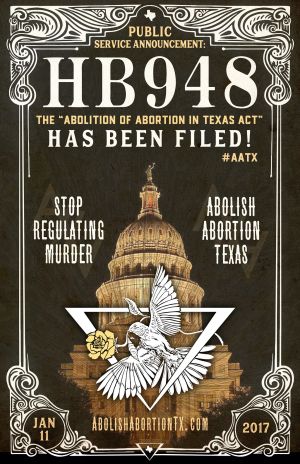 For Immediate Release
January 12, 2017
Contact: Texas Abolitionists
info@abolishabortiontx.com
(512) 522-4876
http://abolishabortiontx.com
Yesterday, Texas State Representative Tony Tinderholt filed HB 948, the Abolition of Abortion in Texas Act.
For the last 44 years, since the 1973 ruling by the U.S. Supreme Court in Roe v. Wade, preborn children in Texas have lacked protection and justice. Many efforts have been made to undermine the Roe decision and to elect pro-life presidents to appoint justices who would overturn it. Nevertheless, the murder of preborn children in Texas has continued with impunity.
In May of last year, the Republican Party of Texas took the bold stand to simply say, "No." to the U.S. Supreme Court. With the support of nearly 90% of its delegates, the party issued a legislative priority (pg. 32) calling on the Texas Legislature to "Abolish abortion by enacting legislation to stop the murder of unborn children; And to ignore and refuse to enforce any and all federal statutes, regulations, executive orders, and court rulings which would deprive an unborn child of the right to life."
Representative Tinderholt courageously answered that call by filing HB 948, the Abolition of Abortion in Texas Act, which defies the Roe decision by completely outlawing abortion in Texas. As stated in his press release:
Current Texas law defines a person to include "an unborn child at every stage of gestation from fertilization until birth." Texas Penal Code 1.07(26) and (38). However, in spite of that definition of personhood, unborn children have not been protected. Abortion continues because we have allowed the federal courts to overrule the Texas Declaration of Independence, the Texas Constitution, the U.S. Declaration of Independence, and the U.S. Constitution, all of which stand for the fact that the duty of our government is to protect our God-given right to life.
Human beings are created in the image of God (Gen. 1:27; 9:6) and are endowed by Him with a right to life. Indeed, it is God who has formed each of us in our own mother's womb (Psalm 139:13). Most powerfully, God Himself chose to enter into this world as a human baby formed in the womb of a woman in order to redeem the world from sin. For those who repent, He is faithful to forgive.
It is time for us as a people to repent of permitting and committing the sin of murdering innocent children. The Abolition of Abortion in Texas Act is a step forward in our state's repentance of our personal and corporate sin. We pray that the hearts of other legislators would be broken over our state's regulation of murder, and that they would join Representative Tinderholt to interpose on behalf of the lives of their most vulnerable constituents, so help them God.
Please join us in thanking Representative Tinderholt, which you can do by visiting his Facebook page. Also, please join us in committing to pray for him, his family, and for the preborn children of Texas.
For more information and resources to help spread the word about HB 948, please visit our bill tracking page:
http://abolishabortiontx.com/85th/hb-948-the-abolition-of-abortion-in-texas-act/